Thinking about Self-Care – These days it's easy to see how life can become overwhelming with all the competing demands and expectations on us.
Amidst all the distractions it's possible to lose sight of what's really important.
That's why it's a good idea every now and again to hit the Pause button. Taking some time out can help us think about how we can be better at managing our own self-care: keeping or getting well; understanding what helps us lead a healthier, happier life; and learning how to get support from others.  Here are a few ideas for you to use the Power of Pause:
Mind your wellbeing
Tracking our moods can help us work out what makes us feel better or worse. We can then take steps to avoid, to change or to prepare for difficult situations. These situations will be individual to each of us but it's really useful to identify what they are, so if needed, we can get support as soon as possible.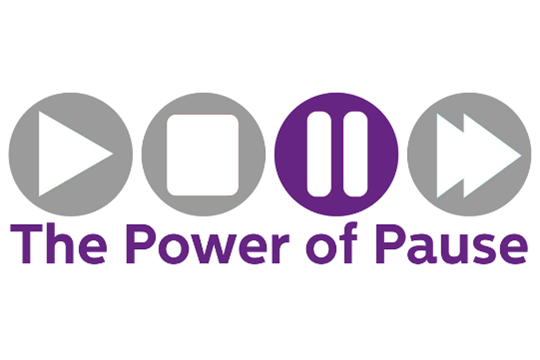 Be kind to yourself
Forgiving and nurturing ourselves can have powerful benefits for our wellbeing. Strong self-compassion can help make us resilient. And yes, these skills can be learned. Basically, it's about remembering that while we may not always be perfect we are doing our best. Recognising this everyday can help set us up to appreciate all the good things about us and spur us on to do more.
Make time for relaxation
There are various techniques we can use to help us relax. We may already know what works for us, listening to music, getting out into a green environment or practising mindfulness to become more aware of ourselves and the world around us. Whatever it is that helps us, it's important to make sure that we aside time to do it.
Build a connection
Feeling connected to other people is important. It can help us feel valued and give us a different perspective on things. Spending time connecting with friends and family – even a text or a call can make a difference. And, if we don't have supportive people around us there are other ways to make connections, like going to events where we have some interests in common with others, or joining a group like a book club or sports team.
Get active
Getting out and getting active is key to our wellbeing. And that doesn't mean you have to run a marathon – it just means finding an activity that you enjoy, such as gardening, walking, cycling or playing football, and making it a regular part of your life.
Remember: If you are concerned about your own wellbeing or someone else's contact a GP or medical professional.