Inspiration Points are an easy way to guide people in a public space to information to support their mental health and wellbeing.
Sometimes it's hard to ask for help. It can be difficult to find the right words or to know where you'll be met with compassion.  Setting up an inspiration point is a simple way to make sure the people in your space can get help and support with their mental health.
What is an inspiration point?
Our inspiration points are posters or display stands with a code. This code brings you to communitywellbeing.info, a website full of information and resources to support people in Northern Ireland. Scan the inspiration point with your phone and you'll go straight to information that can help you deal with things like
anxiety and stress
grief and bereavement
alcohol, drugs and gambling
money and mental health
You'll find contact details for helplines and agencies who can support you through difficult times. Our inspiration points are a discreet and subtle way to make sure people can find the help they need.
Get an inspiration point for your space
Email us if you'd like an inspiration point for your space. We can set these up, free of charge, for any public space, including
businesses and workplaces
charities and community groups
public services and meeting spaces
By putting an inspiration point in your space you are
showing the people who visit, use, volunteer and work in your space that you care about their mental health
raising the public profile of mental wellbeing
challenging the stigma and prejudice that often surround mental ill-health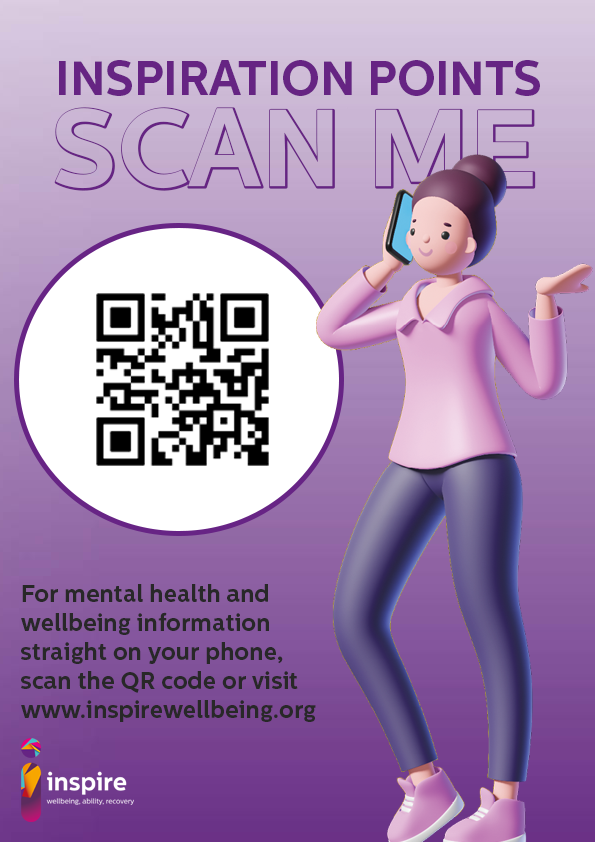 Video guide to Inspire's inspiration points
"We find the inspiration points a great way to springboard conversations with our team. Also if there are people who aren't as open can still get info anonymously for the Inspiration point."
Join our existing Inspiration Point partners